A Life On the Front Lines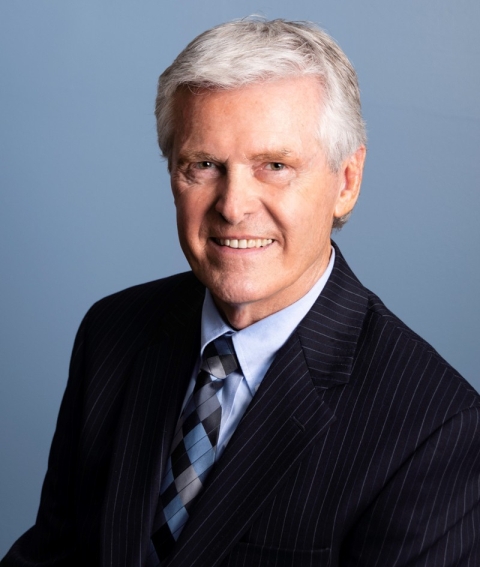 He's a strategic "big picture" leader wired to move people and ministries forward toward spiritual growth and evangelism. With no apology he spends his time on and off the platform strengthening the body of Christ for the purpose of carrying out the Great Commission. God has enabled him to present the deep truths of scripture in easy to understand ways so that all he meets might know Jesus and be conformed to His image. He is passionate about keeping the Church focused on advancing the pure and simple gospel as commissioned by the Lord Jesus.
Ron Susek is a ministry leader, firestorm consultant and Christian author. He is the founder and president of the Susek Evangelistic Association. During his fifty years in Christian ministry he has also been a crusade evangelist as well as a television and radio Bible teacher. He holds two honorary doctorates plus a degree in Biblical studies.
The Great Commission. Ron's calling is primarily in the area of evangelism. Ron is convinced that the Great Commission to take the gospel to all the nations of the world is the primary charge of the Church. He has been the guest evangelist in many area-wide and single church evangelistic crusades. This is his heartbeat, whether speaking at evangelistic crusades, pastors' conferences, using media or writing books. Every area of ministry he touches must be directly linked to the advance of the gospel.
As a strategic "big picture" leader, his strengths include the ability to quickly size up a situation, create a strategy and tactical plan to move things forward, and work with a team to implement that plan for accomplishing the vision.
Micronesia. For instance, while speaking on the island of Guam in the late 1990s, Ron received an invitation to visit Chuuk, Micronesia. Known throughout the Pacific as a diver's dream and treasure-hunter's paradise, daily life for the citizens of Chuuk was anything but idyllic. Domestic violence, alcoholism and suicides were rampant throughout the region stemming from the horrors inflicted on the local population during World War II.
Soon he was working closely with the then governor of Chuuk, Dr. Ansito Walter. His efforts attracted the attention of other leaders and professionals, who developed a $1.2 billion master plan in response to many issues including the systemic poverty of this island state. This comprehensive plan addressed the spiritual, social, economic, political and security needs of the region in a way that was consistent with the gospel of Jesus Christ.
Ron and Governor Walter spearheaded a summit of 1200 religious and political leaders from forty Pacific islands in 2001. Despite the danger of a terrorist attack stemming from 9-11, the summit went forward. Women and young people were given a voice in the political process for the first time. The vision to assist Chuuk attracted a professional consultant who donated his service to assist in writing the master plan. It also gained the support of the president of Palau, who gave his master plan as a template for guidlance. Governor Ed Link from North Dakota also traveled to Chuuk to encourage and advise the process. The outcome of this "top-down" approach to the gospel was immediately felt. Progress that would normally take thirty to forty years in a normal "bottom up" approach was set in motion in three to four years.
Africa. Then, in 2008, Ron Susek met with the president of Liberia and many of the pastors and lords with a view toward seeing a spiritual awakening rebuild this nation that had been shattered by civil war and ethnic violence. This led to conducting Great Commission Summits for leaders in many African nations. Today, African leaders are spreading the gospel of Jesus Christ by continuing the summits.
Mediation. Ron wrote a best-selling book entitled Firestorm: Preventing and Overcoming Church Conflict. As a result, the Susek Evangelistic Association developed a mediation division. Ron's concern was that in every church crisis, the first casualty is the gospel of Jesus Christ. His goal was to identify the systemic challenges and chart a course for healing. This resulted in many churches overcoming destructive forces and restoring healthy growth.
Books. As a best-selling author, Ron Susek's books reach around the world. His book, Holding Nothing Back (Christian Publications, 2000) is a moving true story of how God changed the heart of a Hitler youth. God Will Answer (Baker, 2001) is a book on how to pray effectively. You Can Handle Stress (Baker Book House, 1977). Silent Night, Holy War (IPPY Golden Awards First Place Winner, 2007) provides an amazingly fresh insight into the birth of Jesus Christ. His latest book, The Assyrian Prophecy has already been called a literary work of excellence. Acknowledged for its detailed plight of the Assyrian people, religious leaders from many different denominations continue to weigh in with their endorsements.
Organizations. Ron founded the Susek Evangelistic Association (SEA) (seaministries.org) in 1968, a 501(c)(3) corporation incorporated in the USA and Canada. He currently serves as president of that ministry. In addition, he has developed two subsidiary ministries under SEA. One is entitled FaithWalk Ministries International (FMI). It is geared toward conducting Great Commission Summits around the world. The other, and most recent one, is The Assyrian Project. The focus is to awaken the world to the role of the Assyrian nation in end-time prophecy, and to assist their restoration in their God-given homeland.
Discipleship Course. In 1989, he produced a discipleship course entitled, Discovering the Real You: Finding God's Gift of Well Being. It is being used worldwide to apply the pure and simple gospel to deeper levels of the heart, all leading toward a more liberated life in Christ.
Credentials. Ron has received two honorary doctorates: one from Inalta Seminary in Jakarta, Indonesia, in recognition for his work addressing the needs of developing nations, and one from Lancaster Bible College of Lancaster, Pennsylvania. He graduated with a Bachelor of Biblical Studies from Washington Bible College. He was ordained in 1968 by the North American Baptist Conference (NABC). The NABC leadership blessed him to minister the gospel interdenominationally.
Recognitions. Throughout Ron's years of ministry, he has earned the respect of his peers, including Dr. Mark Bubeck, Dr. Donald Hubbard, Fr. George Bet-Rasho, Ashur Giwargis, Everett Piper, Ph.D, Dr. Daniel King, Dr. Clinton Baker, Dr. Peter Teague, Ph.D, Juliana Taimoorazy, Sabri Atman, Bishop Danisa Ndlovu, Rev. Jim Morrison, Dr. Sargoun Issa, M.D., His Honor, Repeat Samuel, Chorbishop Athanasis Toma, Governor Ansito Walter, Ph.D., Rev. John Booko, Dino J. Pedrone, D. Min., and Kimberly Nixon. In addition, Ron has been honored by the friendship of Dr. Jerry Falwell, Dr. D. James Kennedy, and Dr. Stephen Olford who are now celebrating eternity with the Lord.
The Future. While Dr. Ron continues to address the Great Commission Summits, he is committed to giving the Assyrian nation a face to be seen and a voice to be heard. His most recent book, The Assyrian Prophecy: A Betrayed and Broken Nation Destined to Rise Anew from the Martyr's Blood is the first step in that direction. The end goal of his vision is to see the worldwide Church and governmental leaders enable the Assyrians to prepare for their divinely appointed end-time role. It is the prayer of all who helped Dr. Susek bring the Assyrian story to life that, by reading the book, you will be encouraged and challenged to become a participant in helping impact the future of the Assyrian people. Consistent with his calling in life, Dr. Ron's motivation is to see Assyria become a mighty voice for the gospel as she prepares for her prophetic role of joining with Egypt and Israel to worship God and bless the world.
Marriage and Personal Life. Ron is married to sacred recording artist, Diane King Susek. Diane is a graduate of the Peabody Conservatory of Music, where as a student under Madame Alice Duschak, she was invited to sing with the Baltimore Symphony under the guest director Henry Lewis. She was one of nine finalists in the regional Metropolitan Opera auditions. Diane has produced eleven recordings, two of which won national awards, one for best female vocalist and the other best album of the year. While her main focus was to sing at her husband's evangelistic crusades and conferences, she presents her faith at numerous concerts, Christian television programs, Bible conferences, and sang at the Minneapolis Billy Graham crusade.
Ron and Diane celebrated their fiftieth wedding anniversary, along with their fiftieth year in ministry together in the spring of 2018. They live in a country home in Pennsylvania. Diane is a lover of cats and dogs. Ron is fascinated with horses. Diane is the chief editor of Ron's writings. He laughingly says that she translates everything he writes into English.
"Author's Introductory Price"
$19.99
$
14.99
Order Your Personal Copy Today
"Family and Friends Special" 3 Copies for Only $
32.99
When Shipped to the Same Address
Kindle Version
Order From Amazon
---
For Special "Spread The Word" Quantity Discounts
Call 717-337-1170
Talk with Sherrie about setting up a
phone conversation with author, Ron Susek.